Beyond Financial Aid is a toolkit designed to help two- and four-year institutions close attainment gaps for low-income students. BFA expands the concept of "financial supports" for college beyond grants, scholarships and loans and describes six college-tested strategies for helping low-income students overcome the significant challenges created by limited resources. BFA features a self-assessment that college teams can use to analyze their service capacities and an interpretation guide to help map out their first steps toward strengthening these capacities.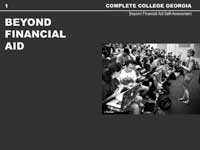 BFA Self Assessment Presentation
The BFA Self Assessment Presentation from July 15, 2016, is available for download as a PDF here.
What can we do with financial aid data?
During the 2016 CCG Forum in October, many participants raised concerns about using financial aid data for purposes outside of the financial aid office.  The National Association of Student Financial Aid Administrators released a report on financial aid data sharing that addresses many concerns that factuly, student affairs and academic affairs staff and administrators raised.  The report is available for download below.
Financial Aid Data Sharing White Paper
Beyond Financial Aid is a project of the Lumina Foundation.